The Boonville Fair Association was incorporated in the year 1888 under Chapter 248 of the Laws of 1872, as amended. The incorporators were H.W. Bentley, C.C. Tharratt, J. J. Hoyt, F.A. Willard, W.W. Roberts, W. Ray Tanner, George H. Beck. Charles E.Thompson, F. W. Owens, Charles Kilkeney, and R. R. Roberts, and the same persons were named in the certificate of incorporation as directors of the first year.[/vc_column_text][/vc_column][/vc_row][vc_row][vc_column width="1/1″][vc_column_text]At a meeting of the Board of Directors held at the Hulbert House at Boonville, New York, June 12, 1888, the following officers were elected: President J.J. Hoyt; vice-president, C.E. Thompson; secretary, F.W. Owen; treasurer, R.H. Roberts.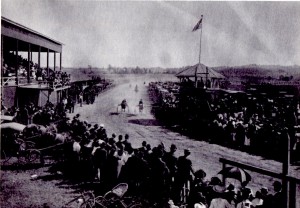 Mr. Hoyt continued as president for three years and was succeeded by B.C. Tharratt, who was president for the year 1891. Following Mr. Tharratt, E.B. Austin was president for four years. He was followed by Charles E. Thompson, who was president during the year 1896. B.A. Capron was president for the years 1897 and 1899; Frank W. Smith, president during the year 1898; G.A. Willard, 1900, 1901, and from 1906 to 1913; Fred M. Woolley, 1902 and 1903, Henry McClusky, 1904 and 1905. C.R. Sperry was elected in 1914 and continued in that capacity to 1933, when Tharratt G. Best was elected. Mr. Best served in 1933 and was followed by C.A. Musser, 1934-1935. In 1936, C.R. Sperry took the presidency until his death in June 1936. Since then, Mr. Musser capably served until 1940, and Romeyn Vaughn 1940 until his death in October 1961. Walter Flint served from October to December 1961. E.R. Hargrave was president at that time and served until November 1964. Newell F. Wagoner has served as President since 1964. Mr. Wagoner served as President of the N.Y. Association of Agricultural Fairs 1978-1979.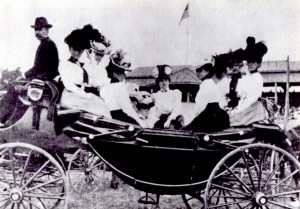 The first secretary was F.W. Owen, who held office for two years. He was followed by C.D. Kau in 1890. Henry McClusky was secretary for the years 1891, 1892, 1893, 1895 and 1899. In 1896 Charles J. Lewis was elected secretary and served for one year. He was followed by W.H. McClusky, who served for two years. In 1900, H.B. Belknap was elected secretary and served one year. He was followed by Charles G. Cavanagh, who served for one year. In 1902, George L. Birdsey acted as secretary for one year and in 1903, H.J.Vollmar was elected and served until 1914, when F.A. White was selected who served until his death in 1932, when Perley S. Babcockwas elected. Ronald Ryder took over for 1934-1935-1936 and was followed by Romeyn Vaughn who served until 1940.
E.R. Hargrave served as grounds manager and midway secretary in 1937, 1938 and 1939 and has served as general secretary, 1940-1945; Charles Fickbohm, 1946-1961; Howard Teal, 1962-1966; E.R. Hargrave. 1967-1968; Marion Sattler, 1969-1994; Phyllis Pfendler, 1995-1998; Dianne Hendrickson has served since 2001.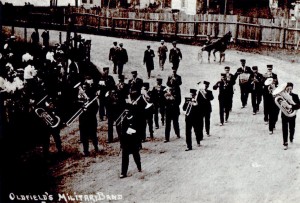 The following persons have acted as treasurer; R.H. Roberts, 1888; B.C. Tharratt, 1889; E.B. Austin, 1890-91; G.H. Beck, 1892; B.A. Capron, 1893-1896 and 1921 to 1928; E.G.Palmer, 1897-1899; A.J. Schweinsberg, 1900; H.R. Tobbs, 1901-1902; J. Howard Jackson, 1903; Charles G. Cavanagh, 1904; E.B. Palmer 1905-1906; F.A. White, 1907-1908; C.J. Lewis, 1909-1920; Jackson Capron, 1929-1934; D.K. Merrill, 1934-1945; E.R. Hargrave, 1946-1961, 1969 and 1972-1973; Albert South III, 1962-1964 and 1966-1968; Helen P. South, 1965; Reginald Porter,1970-1971; Phyllis Pfendler, 1973-1974; Peter Parrish, 1975-1976; Jane Bellinger, since 1977.
Prior to the organization of The Boonville Fair Association, the Boonville Union Agricultural Society, which was organized in 1871, held fairs for a number of years with a reasonable degree of success on the grounds leased by it of the Boonville Driving Park Association. This society gradually declined and finally went out of existence and was succeeded by the present association.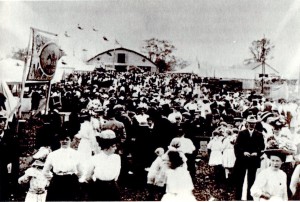 The first Fair held by the Boonville Fair Association was on the dates of September 11, 12, 13, and 14, 1888, on the grounds leased by the Driving Park Association, which is the present location, except that considerable land has been added since that time.
In 1905, the Association purchased the lands, which were at that time known as the fair ground property and which included what was known as the Avery house and lot of W.R. Tanner. This consisted of about 17 acres of land. Later, about 10 more acres of land was purchased. In 1970, three acres of land was purchased from the Adirondack School District. Extensive reclamation was necessary to utilize this property. Also extensive improvements have been made throughout the various years from the proceeds derived from the operation of the Fair.
Distinguished Persons at the Fair
During the years of the fair, many people prominent in the world of affairs have been present, notable Ex-President William Howard Taft, who made an address from the grandstand before a large assemblage of people. The rain came down in torrents but notwithstanding it was one of the most notable of days here. In the ex-president's party were Thomas R. and Fred T. Proctor, George E. Dunham, Hon. Charles L. Knapp, Hon. F.M. Davenport, and Capt. Mayer.
Governor Charles E. Hughes gave an address at the fair as did also Governor Whitman and Governor Sulzer.
Carrie Nation of saloon hatchet fame, gave an interesting address and Edward Payson Weston spoke, gave a new exhibition in walking and judged the baby show.
Untied States senator James W. Wadsworth, Billy Sunday, the famous evangelist, Mayor LaGuardia and many other men of note have given addresses here.[/vc_column_text][/vc_column][/vc_row][vc_row][vc_column width="1/1″][vc_column_text]
On August 4, 1936, the Boonville Fair Association had for its guest speaker Henry A. Wallace, Secretary of Agriculture in President Franklin D. Roosevelt's cabinet. A reception committee greeted him at the Hulbert House at 2:30 and 3 o'clock, he was escorted to the Fairgrounds, speaking from the platform in front of the grandstand. President of the Fair Clayton A. Musser, introduced Congressman Fred J. Sisson who in turn introduced Secretary Wallace. Those who accompanied Secretary Wallace were Mayor Corrou of Utica, Commissioner of Public Safety Beebe, a delegation of prominent citizens of Utica, and Mayor Arlington of Herkimer who headed a delegation from Herkimer County. On the platform were also prominent citizens from many cities and towns, Paul Williams, editor of the Utica Press, and other representatives of the press of metropolitan dailies.
On August 5, 1942, Thomas E. Dewey, former governor of New York State, accompanied by several prominent Uticans, were guests of the Boonville Fair Association, at which time Mr. Dewey was the guest speaker.
On August 5, 1966, Nelson Rockefeller, Governor of New York State, greeted the crowds, participated in the Tractor Pulling Contest and gave a short address from the stage.
On August 6, 1971, the Fair Association honored Commissioner Wickham on his anticipated retirement and declared the day Donald J. Wickham Day. A plaque was awarded Mr. Wickham.
On August 4, 1972, the Fair Association honored the newly appointed Commissioner Frank Walkley, declared the day Frank Walkley Day and presented him with a plaque. In 1979, Commissioner Roger Barber visited the Fair. On August 4, 1983, Commissioner Joseph Gerace met with local dairy farmers at show tent. On July 29, 1994, Commissioner Richard McGuire visited the Fair.
Over the years, the Boonville Fair has brought to the area the finest entertainment. But in the field of country music, the record of the fair has been unsurpassed. Beginning in 1961 with the Kitty Wells show, some of the finest country shows and stars have appeared: Connie Smith (1969 & 1971), Jeanne C. Riley (1973 & 1984). Barbara Mandrell (1972-75-78), Crystal Gayle (1977). Dolly Parton (1974), Charley McClain (1980), Donna Fargo (1982), Jim Ed Brown (1983), and many others, but all have been nationally acclaimed entertainers.
]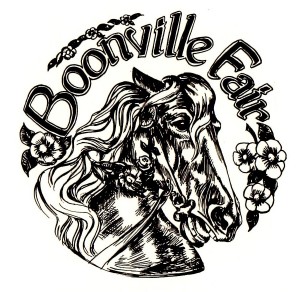 The Boonville Fair celebrated its 100th Anniversary July 25-31, 1988, with great entertainment and fine but hot weather. Visiting the Fair were the Garfield Cadets, National Junior Drum Corps, Herb Read and the original Platters, the famous Budweiser Clydesdales, Joie Chitwood Chevy Thunder Show, and Louise Mandrell. On Wednesday evening Porter Wagoner entertained and was Master of Ceremonies for a birthday celebration with a cake that served 4000 grandstand patrons. That evening was climaxed with a great fireworks display. All grandstand shows were free and there were other fine shows along with the Coleman Bros. Midway. Of special interest was the conversion of the Executive Office into a delightful and interesting Museum decorated with artifacts, old pictures, displays, and carnival glass, as well as having a continuous slide show of past fairs. Many other events were held and the fair set a new attendance record, exceeding 50,000 people.
In December 1992, a new Executive Office was completed for year-round use. With grants form both the County and State several major repairs were made. 1994-95 the grandstand was rebuilt and new bleachers added. In 1997 a new cattle barn was constructed. In 1998 a major midway was paved with aide from Coleman Bros. Shows, and 1999 marked the 50th anniversary of the Coleman Shows at the Fair.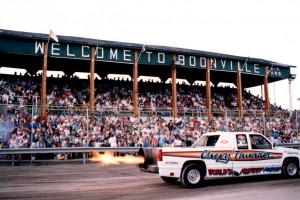 Marilyn Trainor served as president of the N.Y. Association of Agricultural fairs 1998-99. Class acts have been appearing such as Blackhawk in 1997, Diamond Rio in 1998 and Martina McBride in 1999. In 2000 the Fair had to cancel the Lorrie Morgan show because of inclement weather. Shotgun Red, Steve Hall and The Shot Gun Red Band made their first appearance to the 2001 Boonville Fair. Nathan L. Rudgers Agricultural Commissioner was present for the 100 years of 4-H and Legislators' BBQ. In 2003 Mr. Newell Wagoner celebrated Forty Years as President of the Fair and Alberta Schallenberg celebrated 67 years as a 4-H Volunteer Leader. Governor George Patacki made a special visit to the Fair on Saturday July 26, 2003. [/vc_column_text][/vc_column][/vc_row][vc_row][vc_column width="1/1″][vc_column_text]The Boonville Fair in 2005 had a return visit from Governor George Patacki , with great weather , the fair saw an increase in attendance over the 2004 Fair. In 2006 the Boonville Fair had a change in management, after 42 years as president Newell Wagoner retired and Harlan Bellinger took over as president. The weather had an effect on the attendance at the Fair, BlackHawk returned to the stage for a country and western show, the weather again had an effect on the attendance of the show, although those who attended enjoyed a great performance from the group. Two new pole barns were built on the Fair Grounds with grants received. One was a new cattle barn and the other was used as the show pavilion these barns were an added attraction to the fair. Tommy Cash appeared with his band and Craig Wilkins and his band performed for a Saturday night concert.
The 2008 Fair saw several rainy days and nights, by the end of the week skis cleared for Friday and Sunday. Saturday was the first time for a Monster truck show and even through rain came the show went on. We had racing pigs return to the Fair and it was a great show.
The 2009 Boonville Fair saw a decline in attendance due to the weather. The Fair lost two long time directors Kenny Youngs and Frank Stysh. Kenny was an announcer for many of the tractor shows during fair week and he was also involved in getting country entertainment at the fair. He announced his own talk show, from the fair grounds over WBRV during Fair week. Frank had a life interest and association with the operation of the fair, He served as a director, vice president a longtime member of the premium committee, and chairman of the horse pull competition held during the Fair. Both of these fine gentlemen will be sadly missed by the association.
The 2010 Fair saw beautiful weather with only one evening of rain. Jane Bellinger stepped down as treasurer after over 30 years of service. Judie Dellerba became our new treasurer. Attendance saw an increase as the weather was the best it had been in over 10 years. In January 2010 at the NYS Fair Convention in Rochester, NY Newell Wagoner was inducted into NYSAAF Hall of Fame.
The 123rd Boonville Fair was a successful Fair considering the bad weather that caused several Fairs in NY to close down. We had several changes that were a benefit to the Fair and the over all attendance was about the same considering a few days of rain. Mr. Newell Wagoner was the Grand Marshall for the 123rd Boonville Fair Parade and it was truly an honor as Newell has been a member of the Boonville Fair for over 50 years. Fred Kline celebrated his 50th year of managing the NY State Sire Stakes and was recognized for his commitment to this event. It was a very successful event for the Fair as over 100 horses raced on that day.
The Boonville Fair is still very much an Agriculture Fair and will continue with that tradition with the many events that are put on during the week.
The 124th Boonville Fair started off on a sad note with the death of George Kahler. For a number of years George was superintendent of the commercial building. He rode around the grounds in his orange cart with his wife Gail by his side. Gail passed away a few weeks after George. Their love for the fair and dedication will always be a treasure to remember. Charles Mahaffy was Grand Marshall for the parade and praised for his dedication to the Fair. The fair was a successful event and the directors look forward to the celebrating the"125" in 2013.
The 125th Boonville Oneida county fair was off to a great start, but again the weather played a major part in the attendance during the week, with only a few nice days and a rainy weekend we still were able to bring to the area and Agriculture Fair that will continue to be a tradition to Oneida County. The concert on Saturday night was held even the rains came and the crowd was few, the Fox Brothers gave a 100% performance and a gigantic Fireworks display returned to the grounds to make a rainy but wonderful evening. We look forward to the 126th Boonville Fair with a few changes that will be a welcome site for everyone who attends.